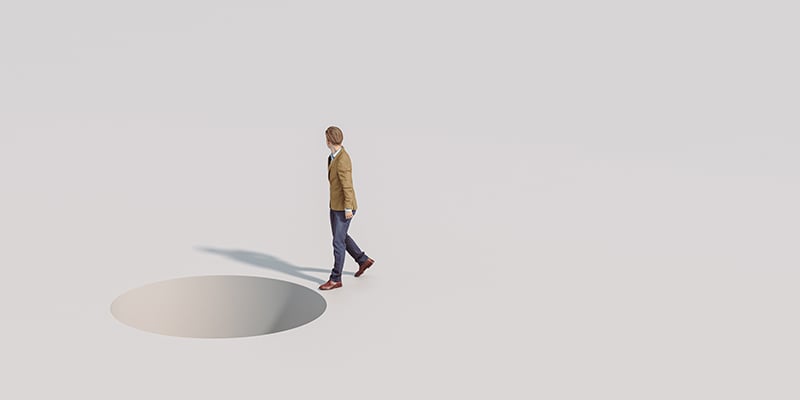 As a business that works with other businesses, the expectation is that they'll pay for the goods and services you're providing. Unfortunately, delinquency and debt in business relationships is a very real, all-too-common problem. If you pay attention, there are glaring red flags that could provide clues that some clients could be problematic.
Here are six types of risky B2B client behaviors that might indicate they won't pay on time.
Downsizing
When working with a B2B client, downsizing might be a clear indication that something's amiss. Layoffs could be due to an economic recession. They may be moving to a smaller location due to hybrid work. Downsizing could also be due to a merger or acquisition. It's imperative to remain in contact with the accounts payable team so your invoices don't get lost in the shuffle.
Inconsistent Orders
If you have a long-standing relationship with the business that suddenly becomes inconsistent, there might be a problem. Get curious about why they require less of the goods and services you offer. Are they trying another vendor? Is their business slowing down? Are they not satisfied with what you're providing? Again, communication is key.
Disputes
When your client is pushing back on things - your services, your time, your invoices - it's a good idea to reexamine the relationship. Did your sales team promise something else or more than what you're providing? Is your client trying to get out of the agreement by making excuses or disputing your work without paying for it? Maybe they're not the right kind of client for your business.
Personal Problems
Some client relationships rely heavily on one contact or champion within the organization. If your contact is now struggling through personal challenges, it could signal significant difficulties in your business partnership. Remember that your contact is a human being who deserves empathy. But also, be sure to follow up regularly and get a backup contact, if necessary.
Non-Responsive
It can be especially frustrating to sign a contract with a client who never responds to communication. As a business owner, this behavior is maddening because it's a natural response to assume the worst. What appears to be avoidant behavior may actually be a really busy person. It could also reveal that your contact no longer works there, that the business may be in trouble or that you'll likely not receive any payment for your hard work and diligence.
Inconsistent Payments
The most obvious clue of a risky B2B client is one that rarely pays in full or on time at all. Whether it's a long-time client who is suddenly inconsistent or one who has always been that way, payment problems are a sure sign that you need to get tougher. Here are some suggestions:
Enterprise Recovery LLC specializes in B2B debt collections. Our collections specialists train in your industry, so they use best practices to recover what's owed and do it with your business relationships in mind. Don't fall victim to late payments. We can help.