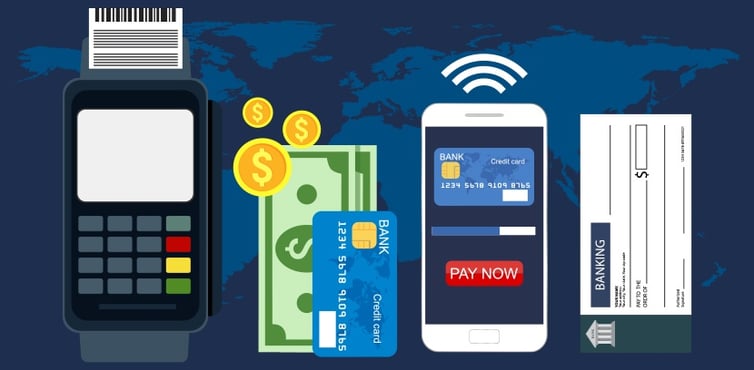 Payment technology helps create a seamless and innovative experience for corporate payments and supply chains. In the digital marketplace, vendors and suppliers can contract and expedite payments in a timely manner. Businesses who work with global partners can also feel more confident with transparent payment solutions.
Although B2B payment technology is fast and secure, organizations are slow to adopt the infrastructure and processes needed to implement it.
How B2B Payments are Made
A recent PMNTS.com article noted in a survey that 63% of suppliers preferred being paid electronically, via ACH, as opposed to 25% preferring a paper check. Only 9% preferred a credit card. Other preferences of note:
Firms with $50M or less annual revenue prefer paper check at a rate of 37% vs 15% if revenues are over $50M
Firms with $50M or less annual revenue prefer ACH payments at a rate of 48% vs 78% if revenues are over $50M
If the volumes of invoices were lower, there seemed to be a greater preference for checks
Even though more organizations preferred being paid via ACH, 83% of all businesses surveyed were still paid overwhelmingly via paper checks. More than half of all businesses were paid via credit cards and, as business increases, more payments were received via ACH.
Download B2B Payment Collection Best Practices
Electronic Payments can Expedite Cash Flow
Many businesses will look into payment technology and electronic invoices in order to get paid faster and more securely. An invoicing process between a supplier and manufacturer, for instance, would involve sending a paper invoice via regular mail (or with a shipment) or possibly sending via email. Once the invoice is approved and a paper check is cut and mailed to the supplier, the process could take 30 - 90 days before a check is received. By adopting digital means for invoicing and receiving payments, this timeline could be reduced to days.
What happens when a customer doesn't pay?
Increase Delinquent Accounts Receivable & Bad Debt Collection with Payment Technology
Once an invoice is overdue for payment, a defined B2B accounts receivable and collections process will determine when the account is sent to a commercial collections agency. The process of accepting payments, even after sending the debt to collections, should be seamless and flexible.
When following-up with a customer for payment on a delinquent balance or debt, the first step is getting them to take ownership for the balance due. Once that's established, you'll want to take their payment (in part or in whole) immediately. The easiest way to ensure this happens to provide simple means to satisfy the payment via ACH or Card payment.
What about transaction fees associated with Credit Card payments?
At Enterprise Recovery, we offer the same payment methods of the clients we're representing. If need be, we will also offer other payment options that will prompt the fastest and most efficient way to get the debt paid back. If payment is made on a credit card, we incur the transactional fee so our clients don't have to absorb the added expense. Contact us to learn more.
---
---