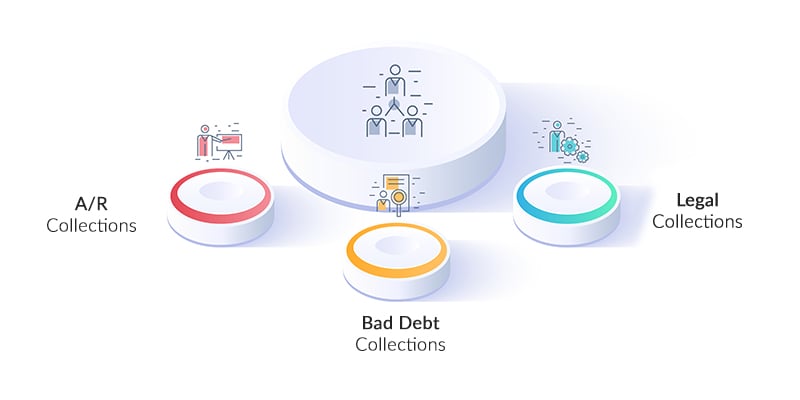 If you've agreed to contract with another business, you are providing valuable products and services that benefit their company's success. Likewise, their payment to your business is cash flow that keeps your company running smoothly. When your business fulfills its obligation but your client doesn't pay, it could sour the relationship and put your cash flow at risk. There are steps that your business can take to ensure payment prior to taking legal action. Or you can work with an professional agency that takes these steps with you.
Get yourself a partner who does accounts receivable, bad debt collection and helps with litigation. B2B Debt Collections in 1...2...3.
1: Accounts Receivable Collections
It's not uncommon for a many past-due invoices to be put aside, especially in small or high volume A/R departments. Some invoices get overlooked due to changes like mergers, acquisitions, adoption of new technology or employee turnover. In any case, if those invoices are put on the back burner, those numbers start to add up. Best practices call for running aging reports, auditing credit and collections and following up. If your A/R department simply doesn't have the capacity to audit or follow up on receivables, Enterprise Recovery can do it on your behalf.
2: Bad Debt Collection
When collecting on bad debts from other businesses, the process must consider the business relationship. A debt collections agency that focuses strictly on business-to-business collections understands and protects the hard-earned B2B relationships while firmly demanding payment. Collections agents do the investigative research required to locate all responsible parties and collect what's owed to you. Pricing is contingent on the success of the efforts so that your business doesn't pay a dime unless your money is collected.
3: Legal Services
Often the threat of legal action will prompt payment of a delinquent invoice. In the case where that doesn't work, Enterprise Recovery can scale our services from A/R to bad debt collections to legal action. During legal review, our legal team will review your case and determine if the litigation efforts could be successful. Legal paperwork, jurisdictions and placement of your case is handled in conjunction with our continued collection services. Your A/R team can feel confident that if the account is going to court, it's because every other effort to collect has been exhausted.
1...2...3... Enterprise Recovery
Our professional collections team understands B2B accounts receivable and debt collections. Our expertise is recovering your hard-earned dollars and protecting business relationships. We can serve as part of your accounts receivable team or as your third party agency. Our free client portal allows us to easily scale services up or down:
Level 1 - Accounts Receivable Collections
Level 2 - Bad Debt / Delinquent Account Collections
Level 3 - Legal Services
How we help is up to you. Contact us today to let us know how we can help!