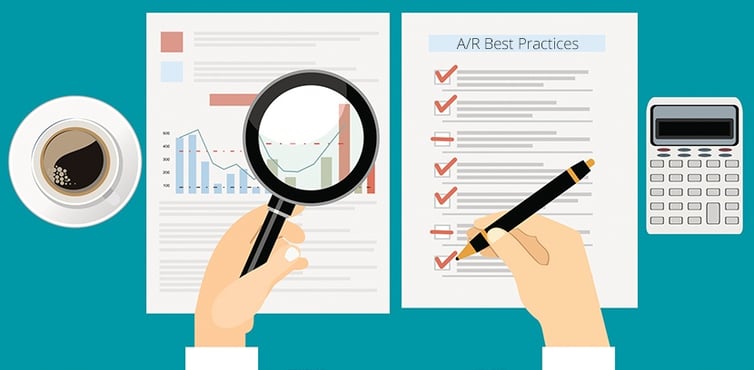 As any business knows, when accounts receivables begin to drift, other expenses feel the squeeze. With fewer invoices in larger amounts, more is affected when clients aren't paying on time. One late payment can mean payroll, rent, or other vendors aren't paid on time either. An accounts receivable department could be considered the heart of an organization.
Here are some accounting best practices to ensure your invoices get paid faster.
A/R: Priority & Processes
Your business accounts receivable should be a priority in any organization from the start. The best way to ensure success of any business is to keep the cash flow steady or growing for survival, company investments and appeal to external investors.
Here are some best practices to consider:
Create and follow a process - Organized processes help businesses stay on target. An example of a required accounts receivable process is a set schedule for invoicing. Another best practice is to have a process for documenting payments received and deposited.
Communicate - Get to know your client's accounts payable person or A/P department. Regular communication establishes a relationship and an expectation that invoices are received and paid on time.
Agree on payment terms - When signing an agreement or contract with a client, state payment terms clearly. These terms may include when to expect invoices, if there are any discounts for early or in-full payments, when payment is due and what to expect if payment is late.
See also: B2B Accounting Guide
Make it easier - Accounts receivable can be an easier process on your A/R department and your client with automation. Accounting software can assist with creation and sending of invoices. Client payments can be received electronically or automatically deducted directly at regular intervals.
Know when payments are late - An invoicing calendar should also include when to review receivables in a timely manner. The earlier you're aware of a late payment, the more likely you'll recover that account.
Establish a collections policy - Another important accounts receivable process is a collections policy. The collections policy explicitly details, for your A/R department and for your client, what happens if a payment is past due.
Collections Policy
When agreeing to a partnership or business deal, the contract or agreement will include payment terms and a collections policy. This information explains clearly what is expected from a client with regards to payments - how to pay, when to pay, who to pay and what happens if they don't pay.
Further, a collections policy will include:
How contact is made for past due accounts
How often contact is attempted
How many times contact is attempted before the account is sent to collections
What actions will determine immediate escalation

Refusal to pay
Refusal to communicate
Unkept promises to pay

When an account is generally sent to collections - Standard is 90 - 120 days late. The earlier, the higher the success of recovery.
Collections Process
Many organizations will attempt to handle collections in-house before escalating accounts to a collections agency or a law firm. Best practices for an in-house collections process include:
Demand Letter - A demand letter informs the client that the account is past due. The letter offers the amount due and an opportunity to pay in full, partial or make arrangements.
Contact - When a demand letter doesn't facilitate a response, businesses are allowed to do more investigative work and attempt contact many times in order to reach their clients. Follow the collections policy stated in your agreement.
Send to Collections agency - If your business doesn't want to damage your relationship with your client, sending the account to a collections agency is the next step before a lawsuit. The right commercial collections agency will respect the relationship between your business and your client.
Business to business relationship are complex and therefore a business' accounting policies should be defined early. Setting up these best practices will allow your accounts receivable department to have a good head start in getting clients to pay on time. With lower volumes and higher invoice balances, too much is at stake when a client's account becomes past due. A solid commercial collections agency partner knows this, understands the value in business relationships and therefore may be more successful at recovering debts.
Hiring a collections agency? See how Enterprise Recovery brings your accounts back into orbit.