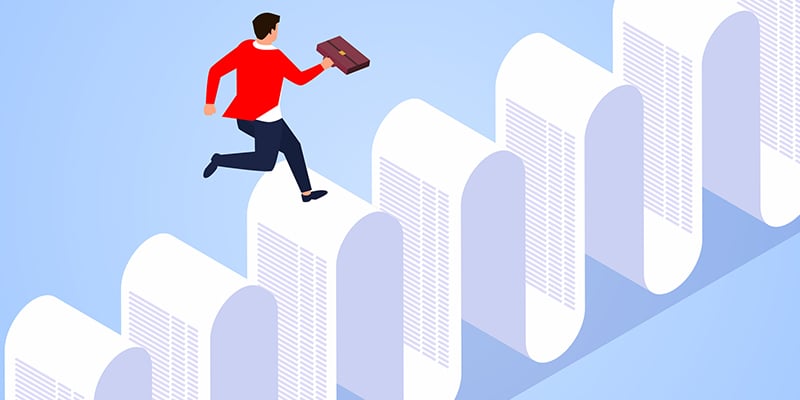 As accounts receivable (AR) begin to fall delinquent, your business expenses could fall delinquent as well. With every late-paying client, cash flow for payroll, rent, or other vendors falls short, threatening your company's bottom line and growth. The effectiveness of your accounts receivable department may be one of the most important measurements to determine the success of your business.
Use these tips to efficiently collect AR and get invoices paid faster.
Accounts Receivable Processes
The best way to ensure successful cash flow is to prioritize A/R. Here are some best practices to consider:
Create efficient processes for accounts receivable. Consider processes for invoicing, setting credit policies, payment terms and more.
Communicate often with the client's accounts payable person or A/P department.
State payment terms clearly in contracts or on invoices. These terms may include discounts for early or in-full payments and late fees for delinquent payments.
Automate accounts receivable through A/R software and allow client payments to be received electronically or automatically deducted directly at regular intervals.
Run aging reports regularly to determine when payments are running late.
Establish a collections policy to determine what happens if a payment is past due.
Collections Policy
All B2B contracts or agreements should include payment terms and statements of what happens with regard to late payments. Further, a collections policy can include:
Who to contact for past-due accounts
How often contact is attempted
How many times contact is attempted before the account is sent to collections
When will an account be sent to collections
Collections Process
It's not uncommon for companies to handle collections in-house (first-party collections) before escalating accounts to a collections agency or a law firm (third-party collections). First-party collections best practices include:
Demand Letter - A demand letter informs the client that the account is past due and presents an opportunity to pay in full or establish payment arrangements.
Contact - When a demand letter doesn't facilitate a response, businesses may attempt contact many times in order to reach their clients, according to their collections policy.
Escalation - Escalating the account to a third-party collections agency is the next step before a lawsuit.
Business-to-business (B2B) relationships must be handled with care. Defining your accounts receivable and collections policies will help establish your boundaries so that your invoices get paid faster. Too much is at stake when a payment is past due. A solid B2B collections agency understands the value of business relationships and may therefore be more successful at recovering debts.
Hiring a collections agency? Contact Enterprise Recovery to see how we can help.