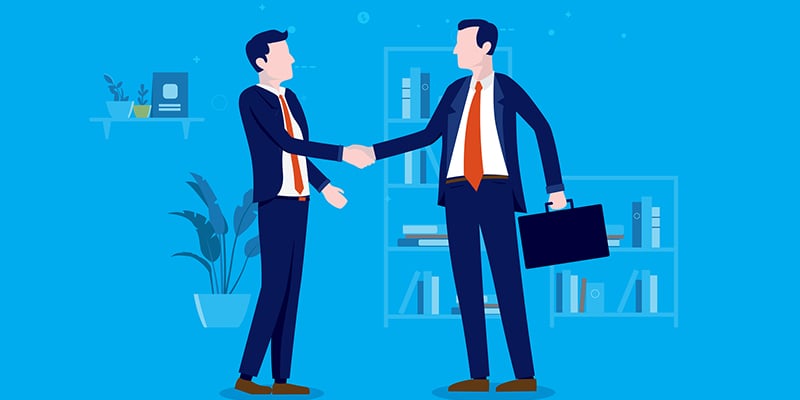 Once your sales team has built enough trust to land a new client, the onboarding process will lay the groundwork for the ongoing client relationship. This is the time that the client is open to you and, at the same time, cautious of your next steps. It's important that you hit the ground running (or even before signing the agreement!) so the client feels an immediate sense of relief.
Here are four best practices to onboard clients for a successful business relationship.
Align with Sales for a Warm Welcome
Instead of your client feeling like they're only as important as the cash they spent, align with your sales team to welcome your client. Restate what you both agreed to, discuss your understanding of your client's goals and give them an idea of what they can expect and when. Include them in the sales hand-off and let them know who they'll be hearing from, likely an account manager, your support team and your accounts receivable department, and what communications they can expect. Use a personalized video, live or virtual meeting or kick off call to provide an idea of your company values, your passions and how ready you are to help.
Set Boundaries Early
This is a very important time to assert your boundaries in a friendly way such as the contract scope, your working hours and how they will work with you. It's important that your client recognize what they've paid for and what you will do to ensure their customer satisfaction. It's equally important that you feel comfortable providing what they're expecting at the price you negotiated. Hopefully, at this time, you and the client have a written agreement that sets expectations on timeline and payment terms such as when, who, what, how often and how to pay. These terms will ensure that both parties are covered if there are questions about what goods are services are provided and when payment is expected.
See also: How Payment Terms Protect Your Business
Get to Work
Your client is going to start looking for value right away. Before signing a contract, you may wish to begin collecting information, researching the client's background and beginning some of the work you will be providing. This pre-work ensures that your client will begin to receive results or feedback almost immediately upon signing with your business. As an example, if you're able to come to the kick off meeting with a timeline of deliverables or tasks that can be completely quickly, your client will feel that you're listening and ready to get to work.
Keep Checking In
Throughout the beginning period of the client relationship, your team must keep communications consistent. This is the "getting to know you better" time period and some things may need adjusting or clarifying. Again, a single point of contact is important, and especially one who's willing to listen to feedback, so that trust continues to grow within the relationship. While the client's contact may be available during certain times, it's better to set a schedule of calls to check in. At each check-in, the team lead should again revisit the tasks, deliverables and goals, get the client's feedback on the work and make adjustments as necessary. This communication is essential for ensuring the client's happiness and a successful business relationship.
Why is Onboarding Important?
Establishing strong client relationships and effective communications helps your business to be more successful, retain clients and (hopefully) build a strong referral network. Another added bonus is established expectations with regards to the work or goods you're providing and when they will pay you for it. When you onboard clients for a successful business relationship, you're reducing the likelihood of bad debt or an account that you'll have to write off later. With a warm welcome and attentiveness, your business-to-business (B2B) relationship is off to a great start.