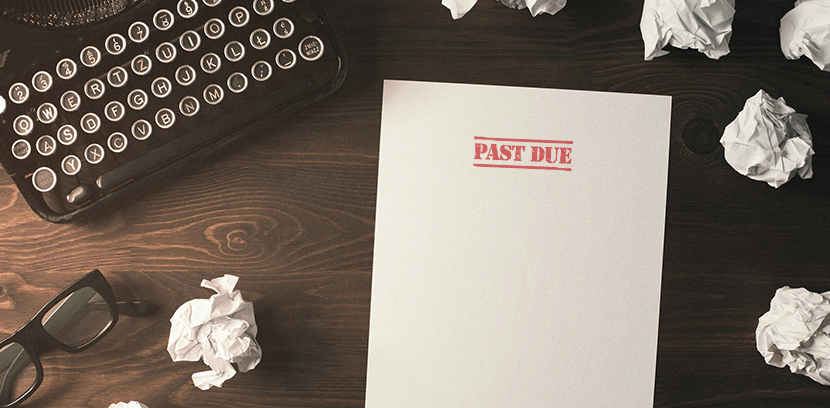 It can be challenging to strike a balance with a client who hasn't paid on time. You may be tempted to take it personally, question your own worth or be tempted to blow it off. If you and your client have an agreement that you will complete work and they will pay, you are absolutely right to remind them to pay. Your chances at a successful recovery depend on how you handle the situation.
It's okay to remind your clients that they owe you money. Here are some tips and sample payment reminder notices to help.
How to Write a Late Payment Reminder
Before Payment is Due
If you've completed the work, the best time to invoice your client is immediately. The invoice should include all available information such as a description of the work or services, the amount due, the name of your business, payment options and due date. It should be very obvious whom the invoice is from and what it's for. With a longer payment period or with a new client, you could send a short reminder that the due date is approaching and they can contact you if they have any questions.
This type of reminder will be short and informative and let your clients know that you're on top of tracking payments. It could prompt them to pay your invoice quickly and without question.
When Payment is Due
Another option, or a continuation of a payment reminder sequence, is to send a reminder on the day that payment is due. If your client hasn't paid early, this reminder will let them know that the payment will be considered past due after this date. Again, the purpose of the reminder is to be curt but friendly so that payment will be released quickly. The message will be simple - payment is due today and here are your payment options. You could also add in a reminder of any late fees that were spelled out in your contract.
As the invoice isn't overdue, your reminder will only serve to emphasize that your client will continue to receive messages if they haven't paid on time.
-Download our Free Past-Due Letter Templates -
After Payment is Due
After the due date, you can still be friendly but firm with your client. Within the first week or two, let your client know of your willingness to work with them and continue to nurture your professional relationship. Perhaps they have overlooked the bill or have questions. The message should also include another copy of the invoice and a reminder of any late fees that have been incurred. Also, ask that they disregard your late payment notice if they have already paid.
When Payment Is Well Past Due
If a few weeks have passed and your client hasn't responded, you will turn to your accounts receivable and collections policy. This policy will determine the point at which the account will be turned over to your internal collections department (also called first party collections) and when it will be sent to a third party collections partner.

With no response from your client, if your client has been avoiding you or if they have been unwilling to pay, it is time to get more firm in your payment reminders. Letters may, in fact, not be working. If that is the case, then phone calls are definitely in order. Any payment reminders or messages should again be direct and request confirmation of receipt from the client.
As a reminder, derogatory comments or assumptions will not help your case, nor prompt payment from clients. Always remain professional, keep detailed notes, and get the account to a professional collections vendor quickly. The longer the account remains unpaid, the less likely you'll recover what's owed to you.
Most importantly, remember that your hard work is worth payment but don't take it personally if your client doesn't pay on time. Use these reminder tips to prompt payment the friendly way.