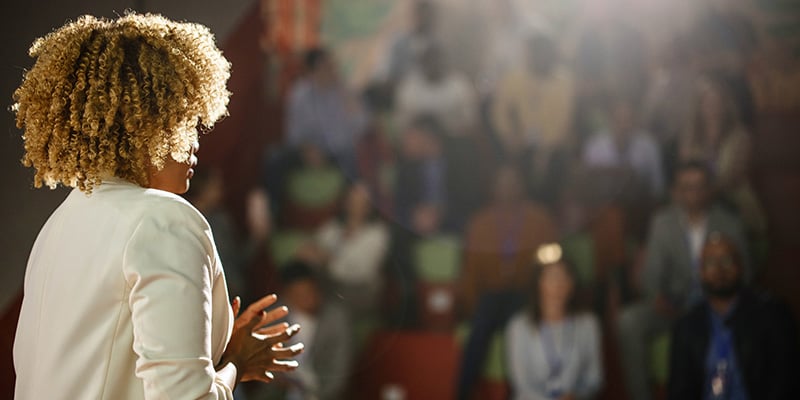 Women look to other female leaders to feel empowered as they break through glass ceilings and face various obstacles along the way. It's important for them to clear a path for other women as well. Women leaders often face challenges such as more responsibilities within their homes and at their jobs, and when serving as entrepreneurs, unequal access to venture capital. Let's hear from some of them for more motivation for us all.
Read these inspiring quotes from women leaders in business.
1

"Growth and comfort do not coexist."

~ Ginni Rometty, American business executive and former chairman, president and CEO of IBM, becoming the first woman to head the company..

---
2

"Just because you are CEO, don't think you have landed. You must continually increase your learning, the way you think, and the way you approach the organization. I've never forgotten that."

~ Indra Nooyi, Indian-American business executive who has consistently ranked among the world's 100 most powerful women. She is the former chief executive officer and chairperson of PepsiCo.

---

3

"Don't be intimidated by what you don't know. That can be your greatest strength and ensure that you do things differently from everyone else."

~ Sara Blakely, American businesswoman and founder of Spanx. Also listed at one of Time magazine's "Time 100" annual list of the 100 most influential people in the world in 2012.

---
4

"What I have learned is that people become motivated when you guide them to the source of their own power, and when you make heroes out of employees who personify what you see in the organization."

~ Anita Roddick, British businesswoman, activist and the founder of the British version of The Body Shop.

---
5

"If you're not making some notable mistakes along the way, you're certainly not taking enough business and career chances."

~ Sallie Krawcheck, American businessman and often called "the most powerful woman on Wall Street," she co-founded Ellevest in 2016.

---

6

"We need to accept that we won't always make the right decisions, that we'll screw up royally sometimes – understanding that failure is not the opposite of success, it's part of success."

~ Arianna Huffington, Greek American author and businesswoman, co-founder of The Huffington Post, founder and CEO of Thrive Global, and the author of fifteen books.

---
7

"Learn to be quiet enough to hear the genuine in yourself, so that you can hear it in others."

~ Marian Wright Edelman, American activist for civil rights and children's rights, founder and president emerita of the Children's Defense Fund.
---
8

"I never have considered myself a perfectionist, but I do think of myself as a 'professionalist'…I always strive simply to be my very best."

~ Dolly Parton, American singer, songwriter, philanthopist and business owner... and national treasure.
Use these inspiring quotes from women business leaders to reach for more and disrupt the status quo. You never know who's watching and waiting in the wings.