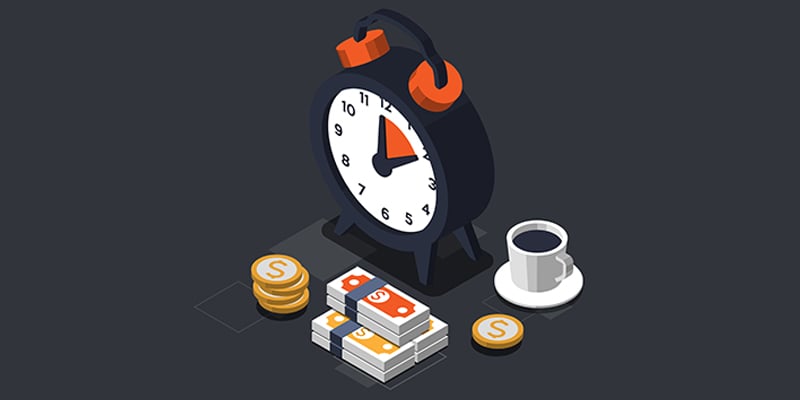 Accounts receivable refers to the amount due from customers for sales transactions using credit, financing, or regular timed retainer payments. When measuring and collecting A/R, your business gets a clearer view of dependable cash flow and has the data to make informed business decisions such as investments and hiring. To collect on past due receivables effectively, the sooner you're aware of non-payment, the more likely you can recover what's owed.
With this in mind, timing matters when collecting past-due accounts receivable.
How to Collect on Receivables in a Timely Manner
The best way to collect A/R in a timely manner is to document and follow a process for both accounts receivable and collections.
As an example for a timely accounts receivable process:
Set a schedule for invoicing. Create and send invoices on the same days each month so your clients know when they'll receive them and when they'll pay.

Set payment terms. These will include when payment is due and late fees or other consequences for late payments or non-payment.

Establish relationships. By getting to know your client's accounts payable department, they'll likely be easier to talk to when a payment is missed.

Run regular aging reports. These reports will help determine when payments are due or past due.
Here's an example for a timely collections process:
Determine what follow-up actions occur when an accounts receivable payment is past due.

Decide how often and by what means contact will be attempted to resolve the account.

Determine which actions lead to immediate escalation (including refusal to pay, inability to reach them).

Decide when the account will be escalated to third-party collections.
See also: How to Take Legal Action When a Client Refuses to Pay
The Sooner, The Better
When you have a quick, efficient process for collecting accounts receivable, your clients know that they'll be hearing from you if they don't pay on time. Moving past-due accounts through your A/R team, into collections, and on to a professional debt collections agency must also be a smooth, efficient process. The longer it takes for follow-up or escalation, the more likely the account goes into bad debt. This could occur for a number of reasons - your client files bankruptcy, contact with your client goes offline completely or your invoice is completely forgotten altogether (by you or them!). Remember, the sooner you know when an invoice is not paid on time, the better you'll be at collecting what's owed to you.
Don't let unpaid invoices get moved to the back burner!
If you don't have time to follow up, Enterprise Recovery offers an

Accounts Receivable Cleanup

Service

to help bring accounts current and streamline your A/R process.