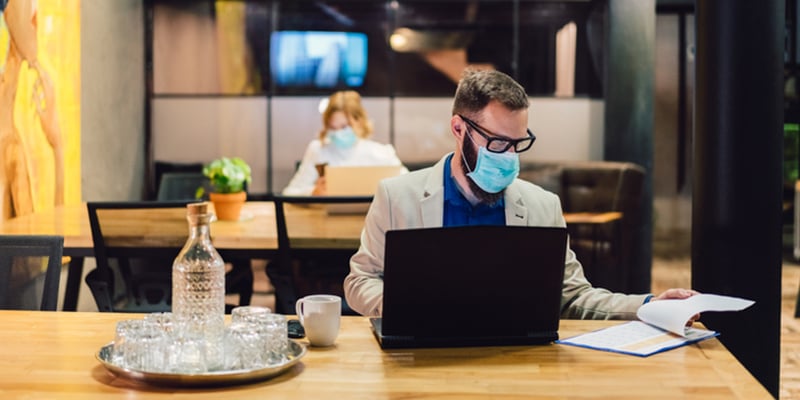 Employers and organizations are beginning to move into a new normal after the COVID-19 pandemic response affected their businesses. With lockdown orders lifted and the phased approach to reopening, business owners and executives are seeking out ways to ramp up business quickly and keep their employees safe. Many companies furloughed or laid off staff and will be running at reduced staff levels for a period of time.
In this post, we offer predictions of tools and new strategies for B2B businesses to get back to work with reduced staff.
Employee Health Tools
Employers are more concerned than ever about the health of their staff. If one person becomes infected with the COVID-19 virus, more employees could also become ill, putting the business at risk. While some contact-tracing tools are being released, employees could also self-monitor through various health tools or employer surveys. Salesforce, for example, just announced a new tool to track employee health and organize shifts to help with social distancing. Where employee wellness programs helped before, there may be a new push to monitor employee health. Businesses would also be wise to ensure that these programs don't become discriminatory.
Sales and Marketing Automation
If businesses need to ramp up quickly, they also need to be responsive to current customers. It can be challenging to be proactive or responsive at a reduced staff. Many organizations have already invested in a marketing automation program of some sort but may not be using it at full capacity. It's definitely the time to dig deeper into the product and implement ways that it can be helpful for customer service and sales. For businesses looking to purchase a marketing automation tool, there are several available at different price points, depending on need or the amount of email contacts. While it may seem challenging to invest in a new program, consider the cost as an added convenience to staff and another way to attract prospects, generate sales and retain customers.
Tools for Virtual Meetings
This suggestion may seem like a no-brainer for businesses that have survived through the shelter-in-place orders of the past few months. Even though many lockdown restrictions have been lifted, several businesses are opting to continue working from home or keeping staff remote. While Zoom seems to have been the tool of choice for many B2B businesses, we expect to see a multitude of tools that expand on the capacity of Zoom's virtual meetings. Unified communications is seeing its heyday right now and we don't expect it to go away anytime soon as employee teams return to a new way of working with each other.
Accounts Receivable Collections Partner
Obviously many of these tools cannot be purchased without predictable cash flow. While we believe accounting teams are definitely essential, employers may still be working with a reduced A/R team. It can be challenging to collect on invoice payments during a pandemic but it is necessary to help B2B businesses get back to work.
An accounts receivable collections partner can work on behalf of the business, at a rate that's likely less expensive than a full-time employee, to help ensure accounts are paid on time and in full. Cleaning up accounts receivable leads to an increase in cash flow, reduced days sales outstanding and best practices designed to get invoices paid.
Businesses ready to get back to work must be deliberate about the tools, strategies and partnerships required to be successful. The phased approach, slow and steady, can lead to growth and hiring if approached correctly. The new normal after COVID-19 may mean better efficiencies and cash flow for the businesses that are ready for it.