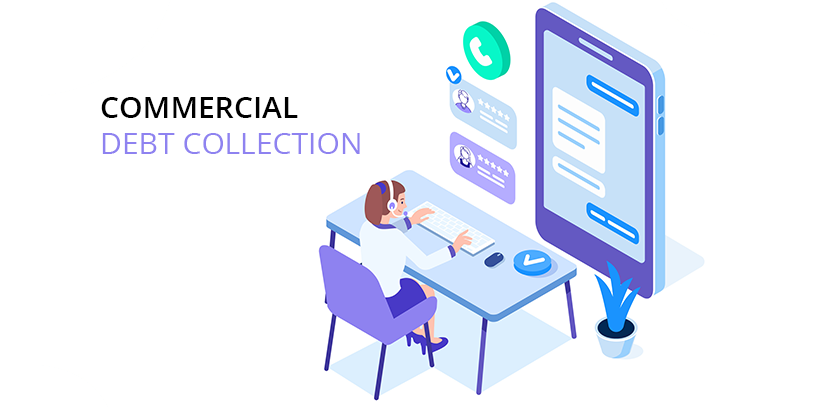 You might feel a bit uneasy when you hear the term "Debt Collection". It could conjure memories of unwanted phone calls or uncomfortable conversations about money. You may be thinking of Consumer debt collections. However there are differences between Consumer and Commercial collections:
Commercial debt collections, or business-to-business (B2B) collections, is used by businesses who sell or work with other businesses. Examples include creative agencies, consulting, manufacturing and freelance writing.

Consumer debt collections refers to businesses who work with consumers - such as retail, utility companies, healthcare - and is used to collect when consumers owe money.
Read more to learn about commercial debt collection, regulations around the process and if it can work for your business.
What is Commercial Debt Collection and How Does it Work?
Commercial debt collections begins as soon as the agreed goods or services are delivered to another business. According to a signed contract or agreement, it's at that point that the client or debtor owes compensation for completion of the agreement. An invoice is generated and the client has certain payment terms to distribute payment. The business delivering the goods or services (the creditor) has a responsibility to collect what's owed. Unfortunately, sometimes this part of the process isn't enough.
A commercial debt collections agency can then be employed to step in on the creditor's behalf. They follow a debt collections process and do not get paid unless they can collect on the debt.
Is Commercial Debt Collection Regulated the Like Consumer Collections?
Consumer collections is highly regulated to prevent consumer debt collectors from being abusive and deceitful. Commercial debt collections can use certain collection practices that are otherwise banned under consumer collections regulation. One reason is because consumer information is protected and private but a business' contact, finances and other information is generally readily available to the public. Commercial debt collections agencies must still be licensed and bonded before performing collections in any state.
Is Commercial Debt Collection Right for my Business?
If you're wondering if you need to consider hiring a third party for commercial debt collections, answer these questions:
Does your business sell goods and/or services to another business?
Do you have bad debt that you've already written off as unpaid?
Do you have clients who are refusing contact or are otherwise unwilling to pay?
Do you have clients who pay late consistently?
Does your accounts receivable department feel overwhelmed?
Are there invoices that are 45 or more days late?
If you've answered 'yes' to any of these questions, you may be a good candidate for commercial debt collections. Your business can get assistance with collecting past due accounts and also best practices for accounts receivable or assistance with litigation.
To learn more about how to hire the best collections agency for your business, click the green button below!