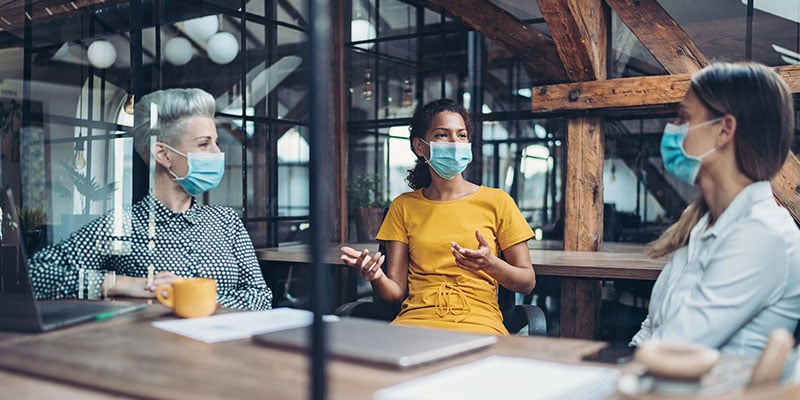 It can seem daunting to imagine reconnecting with clients after 2 years of a pandemic. Or perhaps you're thrilled and ready to get back to those in-person meetings. If you've been working remotely, it's time to try on those old business clothes and get on your client's calendar again.
Here's what you can expect when reconnecting with clients in person.
Why Reconnect in Person?
Virtual meetings from our kitchen tables accomplished the bare minimum - they kept us communicating with our clients. But nothing beats meeting that same contact in the flesh. In real life, we feel more comfortable connecting with each other, even though we're likely more dressed up than we would be in our home offices. The act of pulling ourselves together awakens our readiness to engage and relate. Corporate trainer Paul Axtell reports in the Washington Post, "(In-person)...it's much easier to ask for attentive listening and presence, which creates the psychological safety that people need to sense in order to engage and participate fully."
See also: How to Win Back Clients After COVID-19
Inviting a Client to Meet IRL
If it's been a while since you've spoken to a client or met with them in person, reconnecting might seem a little awkward but it doesn't have to be awkward at all. If your client has remained a customer during the pandemic, then they are worthy of your time. If the client dropped off your radar during the past few years but was a good client before the pandemic, that's another reason to reconnect.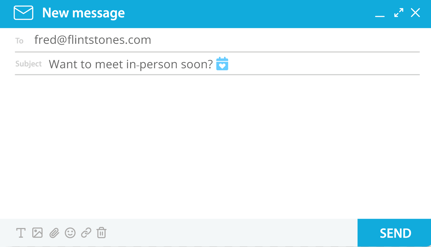 Use these subject lines and email ideas to invite your clients to meet IRL (In Real Life):
Want to meet in person soon?
Simple enough, especially if you've been in contact recently.

Let's meet before the next COVID variant. 👀
Funny, and to the point.

🎉 Congratulations on .....
A life event, a professional announcement, or a business venture. This shows them that you care and are paying attention. Ask to meet in the email.

I read this and thought of you.
Send over an article or book recommendation to start the conversation. Then ask to meet in person.

Lunch is on me!
Always a good lead-in. Invite them out for coffee or a meal to reconnect, network, or catch up on what's happened since you last spoke.

🍩 National Donut Day is Friday!
Use this holiday calendar to celebrate National Coffee Day or National Beer Day and plan to bring something with you when you meet in person.
Discussion Topics When Meeting in Person
Depending on the context for reaching out, your discussion topics may vary. You may find that the conversation is more effortless than it would be if you were speaking over a video call. Your conversation might even get more personal than you'd expect, simply because we're all learning how to be around people again.
Below are some ways to reconnect through an in-person meeting:
Talk about what you (personally) or your business have been through since March of 2020.

Ask how your client survived the pandemic. Did their business strategy have to pivot or change in any unexpected ways?

Report on what your business has done for your client since you last spoke.

Find out if their needs have changed or if there's something more that your business could provide.
Again, meeting in person will be very different from the "let's chat and leave quickly" virtual meetings. The simple reason is that everyone is burned out from looking at their computer screen. Making eye contact and being in the same room as your client will make a big difference in how you and your business are perceived. So, dust off that button up and reach out to your clients. Reconnection may be precisely what is needed in your business relationship.