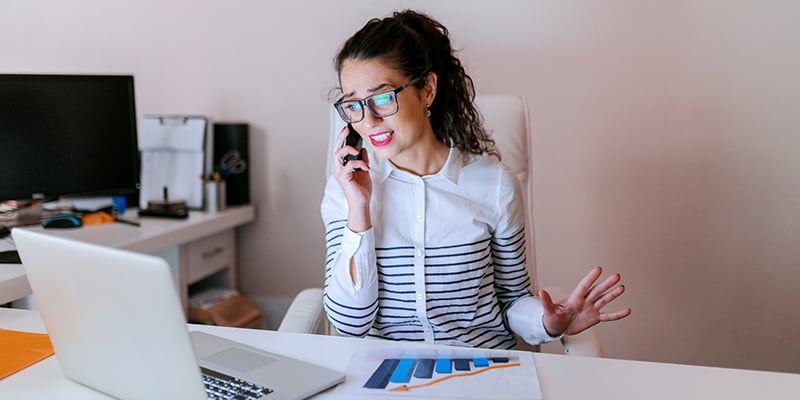 Communication, especially in the time of remote work and virtual meetings, has never been more important. As a freelancer, agency or business owner, you may also feel distracted or overwhelmed when juggling work, clients and working from home. If you've found client communication especially challenging recently, we've created a few example scripts that we hope will help you.
Here are six example scripts to improve difficult client conversations.
You Made a Mistake
If you made a mistake, the first thing to do is apologize, even if you have to make sure. Your client will want to know that you're listening to them, that you're sorry and that you're going to do something about it. With those things in mind, here is an example of what to say:
"First, allow me to apologize for [state your mistake clearly]. I understand that you expected [state their expectations] and we didn't meet your needs. To make up for our mistake, we're going to [insert the plan to make it better]."

---
The Client is Wrong
The client can also be wrong about something and you will need to correct them. Maybe the mistake was theirs and not yours. This conversation must be handled gently so the client doesn't get defensive.
"I understand that you expected [state their expectations] and we didn't meet your needs. I've checked over our agreement [or email or other proof that they are mistaken], and found that we both agreed on [agreement]. If there was any confusion about that, let's talk about it and get it resolved."

---
See also: Setting Boundaries with Clients
Your Client is Quitting You
If your client has decided not to work with you anymore, you may not get a chance to have a difficult conversation. If they want to talk to you about it, you can prepare for the conversation with the following example. Even if they decide to move on, you may still be able to maintain a good relationship if handled correctly.
"I appreciate you talking with me about your decision to move on. Can we talk specifically about the challenges of working with us or the expectations that we didn't meet? Perhaps we can work something out or I can help recommend someone else who can help. Your feedback can help makes us better."

---
You Have to Tell the Client 'No'
There may be something that the client is asking from your business that you simply cannot do, whether for legal reasons, moral reasons or otherwise out of scope. We covered many of these scenarios in a recent blog post but here is a general example script to follow.
"We are unable to do that for you, at this time. Maybe we can offer [something else] instead? I'd love to help you. Let's discuss how we can continue working together."

---
The Client Owes You Money
When the client owes you money, if they haven't been paying or they're late paying, you must follow up with them. We offer downloadable sample email templates for following up, including some that are COVID-friendly. If you have to get on the phone with your client, you can also use the language in the templates or the following example script (obviously allowing the client to answer and giving them the benefit of the doubt).
"I'm following up on an invoice that was sent to you on [insert date]. Did you receive it? Can I answer any questions about the invoice? Can we make payment arrangements so that we can continue working on your project?"

---
See also: What Do You Say When a Client Won't Pay?
You're Firing the Client
The decision to fire a client will be a tough one, and the conversation could be even tougher. Whatever your reason for firing the client - bad fit, challenging to work with, unpaid invoices - you may still want to maintain a decent business relationship. Use this example script to manage this difficult conversation,
"After some deliberation, we've decided to terminate your contract due to [reason]. We can suggest others who may better suit your needs."

---
If you're firing your client due to non-payment, especially if you've already written it off as bad debt, you do still deserve to be paid. As soon as possible, refer the account to a commercial debt collection agency like Enterprise Recovery. Your business doesn't owe a cent unless the agency can collect for you, and then it's a commission off of what's paid. The best part is that the difficult client conversations are over and the professionals can take it on! Let us know if we can help.