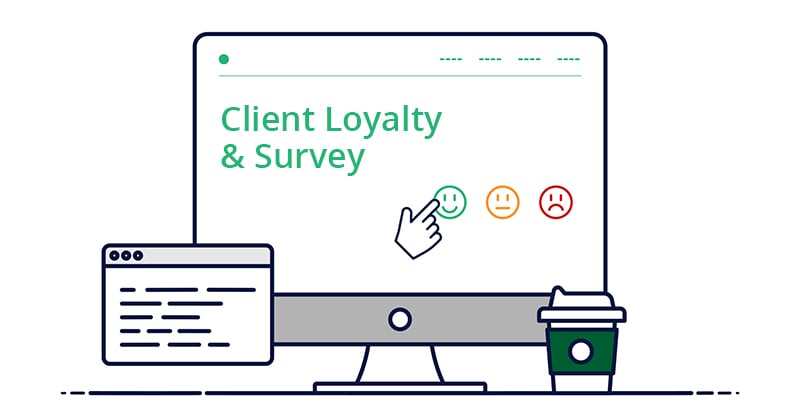 If you're looking for a positive way to reach out to your clients, a survey may be the way to go. There's lots of available survey research but this post will narrow it down to some best practices and questions to include.
Increase client loyalty with these survey questions.
Best Practices & Considerations
Depending on the industry, certain times of year may be better than others for sending surveys. When your clients are super busy (such as tax season or the holidays), they may be less responsive. Surveys that land in the inbox in the morning or late afternoons could have higher open rates too. You know your industry best so follow your instincts. Other considerations include:
How often to send surveys? At the end of an engagement? Annually? At client churn?
Who will respond to your survey? Certain job roles or departments? A single point of contact?
How many questions should you ask? It depends on the objective of the survey and the attentiveness and available time of your respondent.
What is the objective? Is it a check-in for customer satisfaction? Are you gathering data to improve your product or service? Looking to define your net promoter score?
What is your survey method? Multiple choice? Rating scale? Open-ended?
Sample Survey Questions
Once the objective and audience have been defined, you can then craft questions to meet that objective. Our focus for this blog post is to increase client loyalty so our questions will measure customer satisfaction. Here are some sample questions (which could be re-worded or expanded upon, depending on the survey method):
How satisfied are you overall working with our company?
Have you had positive experiences with our company's departments? (Customer service, technical help desk, credit, billing or invoicing department, sales, etc.)
Are you happy with the quality of (product or service) we are providing?
Do you feel that the (product or service) has met your original buying expectations?
Why did you choose our (product or service) initially?
How do you feel the (product or service) can be improved?
Do you feel that the price for the (product or service) is satisfactory for the value you receive?
Have you considered any competitors who are offering similar (products or services)?
Why would you consider moving to a competitor's (product or service)?
The answers to these questions can provide valuable insights on how to improve your products, services, prices, and procedures for doing business with your clients.
See also: 9 Reasons B2B Customers Fail to Pay
Implement Feedback = Gain Client Loyalty
Did you know that listening and implementing customer feedback can help retain high-quality clients? In fact, even angry customers turn loyal when they feel that a business is listening and responding to their needs. The information gathered through the survey can help reconnect your brand with clients who may be considering competitive options, those who aren't using your product or service to its highest potential, or even those who aren't paying their invoices regularly. Revealing your willingness to listen and respond is a powerful way to build loyal clients who'll stick around and pay for what you're offering.