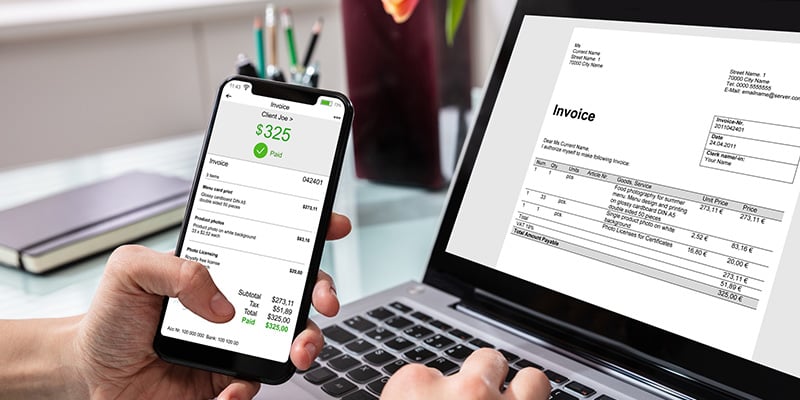 While many businesses are trying to return to a new normal after the impacts of the COVID-19 pandemic, some have opted to move to remote work for the rest of 2020. For paper-based A/R departments, this move has been especially challenging. Sending invoices and receiving checks are necessary components to maintaining working capital and cash flow but what happens when the employees responsible are no longer in the office?
Working from Home Means Automating Accounts Receivable
Some Businesses Still Use Paper
While many consumer-facing businesses (B2C) have made the switch to digital-based payments, not every business-to-business (B2B) company has taken to the idea. According to the PMNTS.com report, Digitizing B2B Payments Tracker®: Moving From Paper Checks To Digital Payments Choice, 63% of B2B companies still require two to five employee signatures before sending an invoice. Not only that, the same report estimates that U.S. businesses still process $12.5 trillion in paper check payments. The COVID-19 pandemic and subsequent shutdowns had these businesses scrambling for better ways to process accounts receivable.
What Does Automating A/R Look Like?
Since many businesses are reluctantly moving to automation, it's helpful to consider the reasons why they're concerned. Most are worried about transaction fees, data breaches and the cost of implementing new technology. With that in mind, the first step in automating accounts receivable would be addressing the reasons behind the adoption fears.
Secondly, the A/R team should consider the current processes for managing accounts receivable such as how payment terms are established, when and how invoices are processed and what secure payment options should be made available for customers. This documented workflow will help the accounts receivable leadership in choosing the appropriate digital tools for A/R management.
Lastly, when deciding on new technology tools for automating A/R, consider the return on investment for implementing a new system. While there may be an upfront fee, the efficiency and increased A/R turnover ratio may be helpful in reducing the stress of the cost.
Increase A/R Collections with Automation
Another added bonus to automation is that many of the invoicing or A/R tools can be used to trigger alerts of late payments. Automation increases the ease in running reports and tracking trends based on particular customers and could even be used to easily resolve late payment challenges. Payment reminders can be issued digitally so the A/R team has a running record of attempts to communicate.
While the world is still grappling with the effects of the COVID-19 pandemic, it has also challenged new and efficient ways of working. Moving from a paper-based accounts receivable system is now no longer an option for the A/R team working from home. Businesses are turning to integrated digital tools to accelerate accounts receivable processes, meeting their customers where they are and getting paid faster.