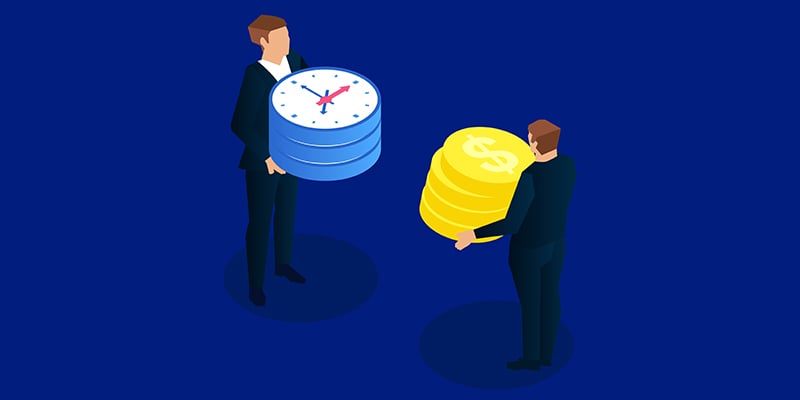 If you've been putting off the headache of collections, you've likely also been asking, "how can I improve my cash flow?" The two go hand-in-hand. When you're not following up on invoices that are getting older, your chances of collecting on them go down. That means you're working for no pay and that's no good.
Instead, use these B2B collections steps to convert aging receivables and improve cash flow.
Step 1

: Run Aging Reports

The most crucial first step in collections is to know what is unpaid or late. An accounts receivable aging report can be run as often as necessary to determine the status of invoice receivables. The report can be broken down into dates for easy review of what's past due such as:
Current
1-30
31-60
61-90
91 and over
The information within this report can be used to determine the accounts receivable turnover ratio or how effective your team is at collections. Or it could also be used to determine future payment terms, including late fees, for those customers who repeatedly pay late.
Step 2

: Refer to Your Accounts Receivable Collections Policy

What is an accounts receivable collections policy, you ask? Well, if you don't have one, now's the time to create one. (We've even created a downloadable sample template you can use.) This collections policy will define the actions that you will take on accounts that are 1-30, 30-45, 45-60, and 60-90 days delinquent. By creating this policy, your collections team will have consistent, efficient processes to use to prompt payment from your customers.
Step 3

: Make A Connection

Whether you choose to send a friendly reminder or pick up the phone for a difficult conversation, it's time to make a connection with your customer. You don't have to view the process as the challenge of getting money. Instead, look at the communication as part of your customer service. You are, in fact, helping them by ensuring that they get to continue using your products and services. You are helping them to avoid negative marks on their business credit report. You can even ask for feedback on what you've provided for them so far. When you go into this part of the collections process with this mindset, you're more likely to get a positive reaction from the customer.

See Also: Do This For Successful Business Debt Collections
Step 4

: Help Them Pay

Helping your customers pay means giving them the tools they need to pay your invoice. This can look like:
Negotiating for a lower amount
Setting up a payment plan to pay it off
Providing lots of different payment options such as credit card, ACH or others
Informing them that the account will be sent to third-party collections
The last option is your tool to use when everything else you've tried isn't working or if the account is so far past due that you're unable to connect or convince them to pay.
Step 5: Call in the Professionals
Third-party collections are recommended if the invoice is 60-90 days past due or if the customer is non-responsive or unwilling to pay. A professional collections agency will:
Use collections technology that may not be available to you
Have specialists with expertise and experience and years of training
Focus on converting aging receivables to cash so you can focus on other things
You can also rely on third-party collections to help move your account to legal review, if it becomes necessary to take your customer to court. Learn more about Enterprise Recovery collections by clicking on the green button below or click here to get started (and see what it would cost).